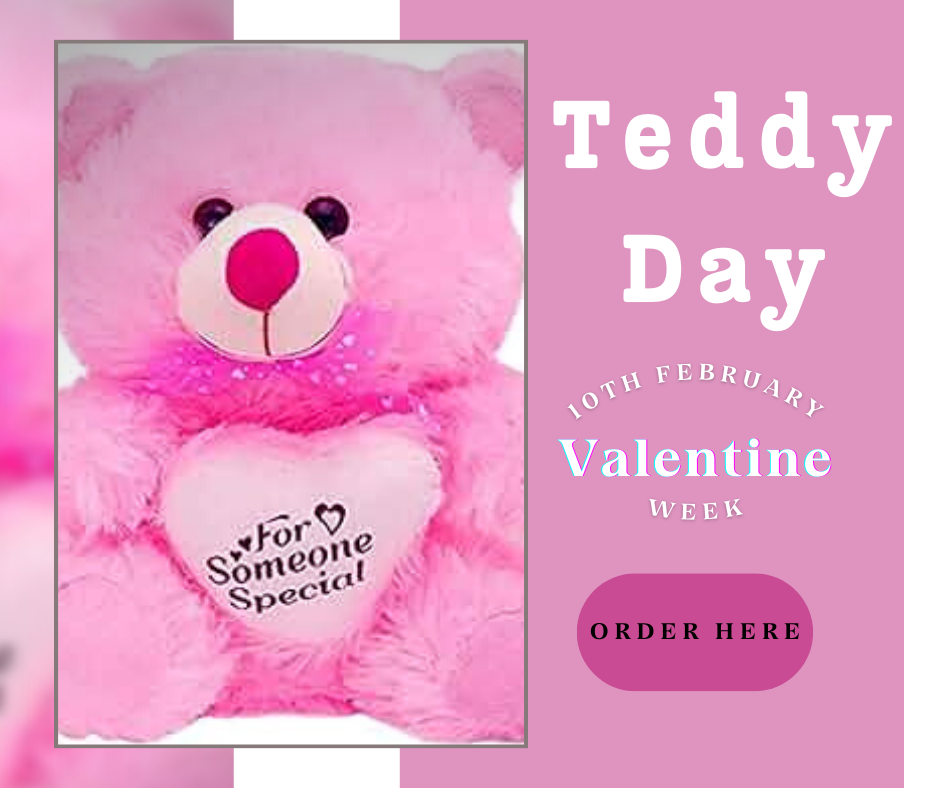 Teddy Day Special Gifts, 10th February Valentines Week Surprise,
Valentine's Day is widely associated with showing affection and love. Teddy Day is one Special day that sticks out in the middle of this love festivity. Teddy Day, which falls on the fourth day of Valentine's Week, is a fun occasion to give cute teddy bears as gifts. Teddy bears are a sign of warmth, comfort, and unending love.
In terms of romantic gestures, teddy bears Gifts are unique. They are more than just plush toys; they stand for empathy, camaraderie, and the happiness of being loved. Selecting the ideal teddy bear for your special someone can be a sweet gesture that makes memories that last a lifetime.
Choose a Teddy Day Special Gift for your Valentine based on a number of considerations
Teddy bears are available in a variety of sizes and materials. Take your partner's preferences into consideration. While some people might love cuddling up with a huge, lovable bear, others might favor a smaller, more transportable one. The teddy bear's softness and plushness are crucial to its cozy vibe.
Customization: Enhance the teddy bear's specializes by adding an own touch. Numerous shops include personalization choices, such as adding a small heart-shaped tag or the recipient's name or a heartfelt note to the bear's paw.
Select a teddy bear that embodies your partner's interests or personality in terms of theme and appearance. Choosing a bear that suits their likes can increase the emotional value of the present, whether it's a cutesy bear, a bear clutching a heart, or a bear themed around a beloved character, Choose a teddy bear constructed of premium materials for superior quality. A well-made bear will endure longer and keep its cuddly quality, guaranteeing that it will be treasured for many years to come.
Special Care about Teddy Day Special Gift to your Girlfriend / Boyfriend
When giving a teddy bear as a present, the act of giving has great meaning. It represents the presence of a dependable friend, a reminder of your love, and consolation in both happy and difficult circumstances, Furthermore, giving a teddy bear has no age or gender restrictions. It's a well-liked present option for pals, relatives, and even kids in addition to love partners, denoting coziness and nurturing in connections.
In addition to the classic teddy bear, there are interesting variants and imaginative choices on the market. The emotive value of a teddy bear can be increased by adding extra features like LED lights, programmable recorded messages, or perfumes.
There are customization teddy bear-themed presents like cushions, blankets, or key chains that have the same emotional resonance as the traditional teddy bear for people looking for alternatives. These objects have practical uses in daily life and can also be endearing mementos of devotion.
Share your feeling By Ordering Online Teddy Day Special Gifts to your Partner
Teddy Day, observed during Valentine's Week, is essentially about expressing feelings and emotions that words alone may not be able to adequately express. It's not just about giving a plush toy as a present. It's a gesture that conveys a lot of love, concern, and the desire to make someone happy.
Finally, as Valentine's Week draws near, remember the significance of Teddy Day and the warm feelings associated with giving a teddy bear as a present. The message is the same whether it's a traditional, cuddly bear or a customized, themed one: love, gratitude, and the promise of friendship that goes beyond Valentine's Day festivities.